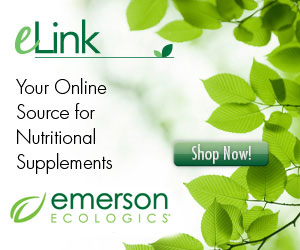 .
Save 30% on your supplements
I've set up an account with EmersonEcologics to give you 30% off your supplements. When you are using alternative methods to manage your health, the cost of care adds up quickly. Emerson Ecologics carries a very large selection of nutritional supplements and many of the companies I would buy from are available on this site.
To register an account, follow the link to the right, and when prompted enter the code: RKACUP and Zip code 95959. After you sign up with the code and zip, you can log in and shop. Your discounted price will appear next to each item.
This is not an affiliate link. I do not profit from this offer. The benefit for me is knowing you have access to superior products.